GX-2003
GX-2003 General Information
The GX-2003's large LCD display shows all gas readings, battery level, current time, and will automatically backlight in alarm conditions. This unit also has a special bar hole mode to facilitate locating underground gas leaks. A high sensitivity leak check mode is also included, and provides ppm level detection of gas leaks. A special variable frequency alarm helps to pinpoint the leak without looking at the instrument display. Other standard mode alarm types include vibration, visual, and audible alarms that can be set to latching or non-latching. Controlled by a microprocessor, the GX-2003 continuously checks itself for sensor connections, low battery, circuit trouble, low flow, and calibration errors. The GX-2003 can interchangeably operate on either a Ni-MH battery pack or 3 AA alkaline batteries. The batteries are simple to replace requiring no tools to access the battery compartment. The Ni-MH battery pack can receive a charge directly within the instrument or separately, allowing the unit to remain in service. Calibration intervals and reminders are user adjustable and can be set to either go into alarm or to lock the user out of normal measurement mode once a calibration period has expired. Calibrations can be performed automatically or individually in single calibration mode. The GX-2003 is also compatible with the economical SM-2003 single channel calibration station.
Three operating modes: Normal, Bar Hole, and Leak Check
Monitors LEL, and % volume methane, O2, and CO and H2S
Barhole mode tests for peak methane and oxygen levels
Leak detect mode offers high sensitivity tests for ppm level natural gas leaks
0 to 100% volume Methane option
Auto-ranging display of % volume and % LEL
Internal sample drawing pump with up to 40 foot range
Vibration, visual, and audible alarms
Automatic backlight during alarms
Calibration reminder with lock out option
Ni-MH or alkaline power source (interchangeable)
Quick charge (complete charge in 90 minutes)
Glove friendly glow in the dark buttons
Alarm latching or non-latching
High impact protective rubber boot
Up to 600 hours of datalogging with alarm trends
Autocalibration or single calibration
TWA and STEL readings with lunch-break mode
Intrinsically safe, CSA, C/US classified
2 year warranty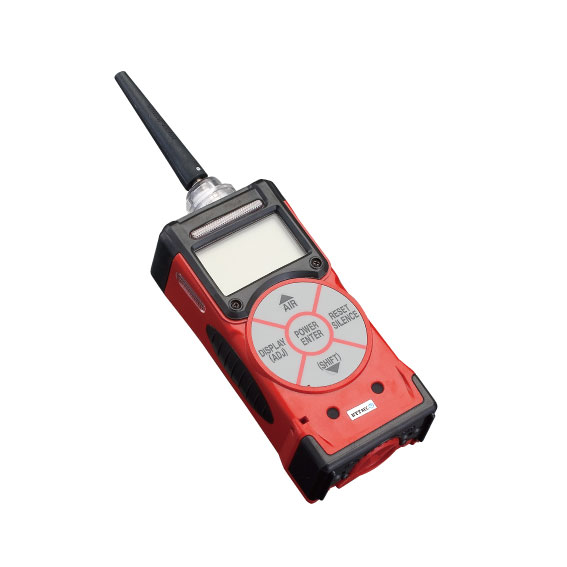 GX-2003 calibration guide
Want to calibrate the RKI GX-2003? Here's how:
Turn the RKI GX-2003 on in normal reading mode. Do this by pressing and holding the enter/power button.
Once the RKI GX-2003 is in normal reading mode, you need to send it into calibration mode. Do this by pressing the display and shift buttons at the same time.
Now that the screen is asking for confirmation, press the enter/power button once on Auto Calibration to confirm. This will send the monitor into zeroing mode. Now is a good time to set the monitor down, and grab your calibration gas, regulator, and calibration adapter.
Connect your demand flow regulator.
Attach the tubing to the hose barb on your regulator. Make sure the tubing is also connected to your calibration adapter.
Make sure your calibration gas values on the screen match what is on your calibration gas cylinder!
Once the RKI GX-2003 has reached the values or close to the calibrations gas, press the enter/power button. The screen should read auto calibration pass. Select normal operation mode.
Congratulations! You have officially calibrated your RKI GX-2003 gas monitor. Make sure to record these readings in your calibration log!
Standard Sensor Settings for the GX-2003
| Sensor Type | Calibration Gas Value | Warning Alarm | Low Alarm | High Alarm | TWA Alarm | STEL Alarm | Part Number |
| --- | --- | --- | --- | --- | --- | --- | --- |
| H2S - Hydrogen Sulfide | 20ppm | 5ppm | 30ppm | 100ppm | 1ppm | 5ppm | ES-1827 |
| CO - Carbon Monoxide | 50ppm | 25ppm | 50ppm | 1200ppm | 25ppm | 200ppm | ES-1821 |
| LEL - Methane Curve | 50% LEL | 10% LEL | 25% LEL | 50% LEL | N/A | N/A | NC-6264A |
| O2 - Oxygen | 12% O2 | 19.5% | 18.0% | 23.5% | N/A | N/A | OS-BM2 |